ARTSFORCHANGE TALENT COMPETITION WINNER EMERGES
2 min read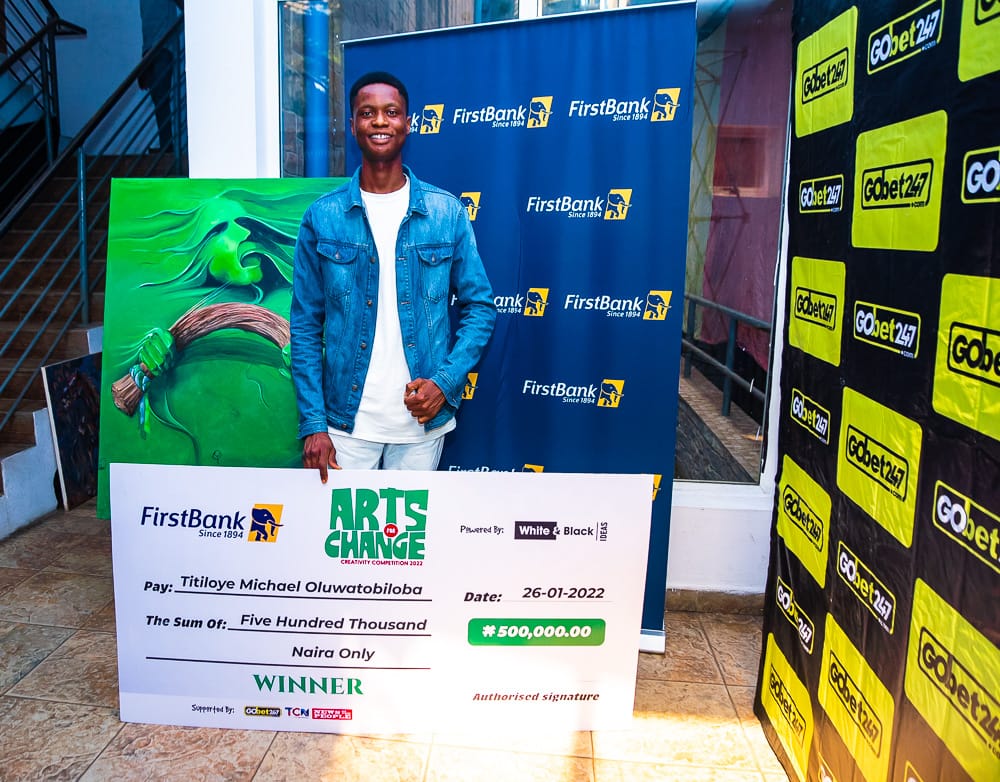 Oluwatobiloba Titiloye has emerged winner of 2022 Artsforchange creative Competition powered by First Bank.
This was unveiled at a classy event put together by White and Black Ideas in conjunction with National Council for Arts and Culture NCAC held at Freedom Park Lagos
Ecstatic Tobi emerged winner from the seven finalists shortlisted from over 500 entries. Other finalists were Okeke Chukwuemeka, Olayemi Olamilekan, Wahab Yemi, Emmanuel Okonkwo, Adewole Abraham Ayo and Lawal Abduraheem.
The winner went home with half a million naira while other six finalists received consolation cash prizes from Gobet247 in addition to certificate of participation.
Speaking earlier, Loye Amzat explained that Arts for Change initiative is aimed at bringing the best out of the creative mind of the youngsters and at the same time encourage their talent.
He, however, hailed First Bank Nigeria plc for supporting the programme.
Explaining the criteria set to pick the winner, Mr. Amzat said "adherence to the theme which is Nigeria: Stronger Together, creativity, aesthetic and originality of the works were the criteria used by the panel of judges.
Former commissioner for Tourism, arts and culture in Lagos state, Mr Steve Ayorinde, who led the panel of judges, said it was a unanimous decision to chose the winner.
Ayorinde said; "what we chose as no 1 spoke to the fact that that particular artwork stands out. It spoke to the theme: Nigeria: Stronger Together .
"The fact remains that all the finalists are winners. We were exceedingly impressed by the creativity. It's very commendable and to the organisers, they shouldn't stop at the maiden edition, they should continue."
In his keynote address, Director General of NCAC who was represented by Edwin Ezenobie commended the organisers, saying the initiative is totally in line with the vision of the council.
According to him, our young ones must be encouraged to utilise the creative talent in a way that will promote our culture and society, adding this is one the avenues to achieve that and it's very commendable.
Tobi who was ecstatic said he was inspired by the story of his grandfather to make the outstanding work. He however praised the organisers and especially First Bank for making him the first winner at the first edition of the competition.
Senior journalists at the event include Ms Tosin Ajayi, Publisher of QED, Mr Olumide Iyanda and boxing promoter, Remi Aboderin, Henry Alade among others.