The Squash Section, Lagos Country Club, recently, held its Annual Squash Ladder Challenge, sponsored by Swifta Systems & Services limited.
The tournament which started on Tuesday 21st June and ended on Friday 1st July had in record over 500 matches played amongst 47 participants.
The intensive game saw Dr. Olubunmi Apata on top of the Gold Ladder scoring 93 points from 24 matches. Deji Sule topped the ladder in the Veteran category, Dimeji Dare- William won The Most Improved Player of the tournament while Alhaji Giwa Oladapo won the prize for playing more matches than all those who entered for the competition.
Speaking at a brief prize giving ceremony.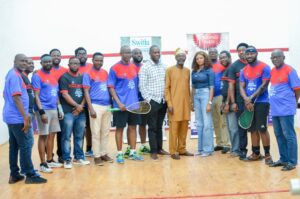 Mr. Kemi Orelaja, Head of Sales, Swifta, acknowledged the bonding value of the competition, stating that all through, the competition was not only healthy but fun.
As a Tech company that is in touch with the future, he expressed optimism that future tournaments will be greater than the current one. He also stated the company's resolve and mission to add value and be a problem solver on IT and ancillary solutions.
The Chairman of Squash Section, Lagos Country Club, Sir Semoore Badejo, thanked the Sponsor, Swifta and looked forward to a mutually beneficial relationship with Swifta on a long-term basis. He looked forward to next year when the Annual tournament is expected to be bigger with more participating members.