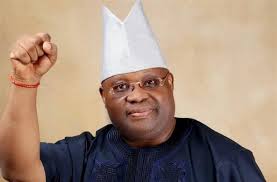 The Deputy National Chairman of the People's Democratic Party (PDP), Ghana, Amb. Oloye Oyeyemi Fatuyi has hailed the election of Senator Ademola Adeleke as the Governor of Osun state on the platform of the PDP.
Congratulating the people of Osun state for electing a man capable of transforming the state,
Fatuyi said the victory was a great message that the people knew what they wanted.
In a statement issued by Ghana PDP chapter's Media Adviser, Mr Moses Owopade, Fatuyi expressed confidence in the ability of the governor elect as a man of his words.
Fatuyi who is also the chairman of Yoruba Community of Greater Accra, Ghana, said as an Ilesha son, he will use his connections outside Nigeria to support developmental programmes of the government of Sen. Adeleke.
He called on all good sons and daughters of Osun State, home and abroad to consider investing in the state a priority.
"It is the people that build growing society all over the World. And now that we have a good personality as our governor, we should not be far from home", he said
The PDP chieftain also said that the next agenda is to ensure PDP wins the presidential election in 2023.
As part of his plans, he assured that many eligible and registered Nigerians in Ghana will be mobilised to vote in the next election.