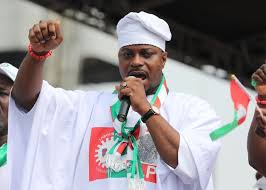 Prominent indigenes of Lagos State under the auspices of Eko Forum have endorsed the Labour Party Governorship candidate, Architect Gbadebo Rhodes-Vivour for next Saturday's election.
This is coming just as the forum used the platform to urged all Lagos indigenes and residents to vote the Labour Party candidate whom it described as a proper son of the soil.
The position of Eko Forum is contained in a statement issued by the Chairman, Alhaji Ismaila Williams and General Secretary, Elder Olawale Ogundimu in Lagos on Monday.
According to the duo, the decision to back Rhodes-Vivour was taken at the end of an extraordinary meeting of the Forum held on Sunday.
The statement reads:
"Members of the Eko Forum from all the 20 local governments as well as all the 37 local council development areas met on Sunday in Lagos.
"Members took the decision to support Arc Rhodes-Vivour after carefully appraising the credentials of all other candidates that have put themselves forward to be elected", the statement added.
According to the Forum, the governorship hopeful scored high in the various indices that were used for the appraisal of the various candidates.
The statement used indices such as educational attainment, youthfulness, pedigree, and ability to relate with issues affecting the state to arrive at its decision.
The Forum also called on Lagosians to discard the rumours making the rounds suggesting that a Rhodes-Vivour led Government would undermine the interest of Yoruba people.
"On behalf of the members of our Forum, we want to disabuse the minds of unsuspecting residents that the Igbo ethnic nationality will take over Lagos if Rhodes-Vivour wins.
"Igbos have been living with us in Lagos from time immemorial peacefully, we have intermarried and done a lot of things together for a long time. They never dragged the ownership of our land with us since and why will they do that now?
"This is cheap propaganda which we appeal to our people not to fall for", the forum stated.