•Distances self from Isiguzoro's inciting statement on Governor, Oba of Lagos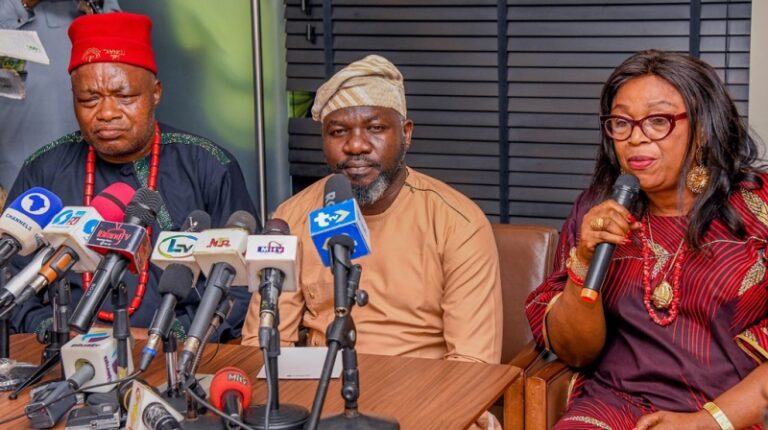 Ahead of next Saturday's governorship and House of Assembly elections, Ohanaeze Ndigbo has pledged their support toward the re-election of the Lagos State Governor, Mr. Babajide Sanwo-Olu, saying Igbo people living in the State will ensure that the governor is re-elected for another term.
The leadership of Ohanaeze Ndigbo in Lagos State said Igbo people in the State will gladly vote for Governor Sanwo-Olu come March 11 because the governor represents everything Ndigbo needs to prosper and execute their businesses and professional calling.
Lagos State chapter of Ohanaeze Ndigbo leaders gave the assurance on Thursday during a joint press conference with the leadership of the Yoruba Council Worldwide in Lagos, held at Ikeja.
Speaking during the press conference, the President-General of the Ohanaeze Ndigbo in Lagos State, Chief Sunday Osai, also distanced the group from the statement credited to one Okechukwu Isiguzoro, calling on Governor Babajide Sanwo-Olu to resign and inciting Igbo in Lagos against the Governor, the Oba of Lagos, Oba Riliwan Akiolu and others.
The Ohanaeze Ndigbo leaders stated that Isiguzoro who is claiming to be the National Secretary-General of Ohanaeze Ndigbo, was unknown to them and he is not speaking the mind of Igbo in Lagos State, adding that Isiguzoro has no relationship with Igbo in Lagos State but wants to capitalise on current political atmosphere to score a cheap political point by instigating violence.
The Lagos Ohanaeze Ndigbo President, who described Governor Sanwo-Olu as friendly, peace-loving, and accommodating sued for a continued cordial relationship between the Governor, Lagos residents, and Ndigbo in the State.
The leadership of Ohanaeze Ndigbo who commended Governor Sanwo-Olu leadership style and Yoruba in Lagos State for making them feel at home promised to reciprocate the kind gesture of the governor and his people by voting massively to secure Sanwo-Olu's re-election bid.
"As the President of the Lagos State Ohanaeze, I represent the mouthpiece of Ndigbo in Lagos and I hereby debunk the so-called Ohanaeze Ndigbo asking Governor Sanwo-Olu to resign.
"Governor Sanwo-Olu is a friendly governor to the Ndigbo, hence a very cordial relationship has existed between Ohanaeze and Governor Sanwo-Olu. If Ndigbo is rooting for anybody to become a governor of Lagos State; that person is Sanwo-Olu because of the cordial relationship that we have enjoyed together.
"Sanwo-Olu represents everything that Ndigbo needs to prosper and he has been very kind and implemented friendly policies that enable us to execute our businesses and professional calling without fear or favour. So, why should we tell him to resign? Even if the constitution permits a third term, Ndigbo will accept Governor Sanwo-Olu.
"I thank the Lagos State Governor and I want to let him know that with Ndigbo, he should go and sleep with his two eyes closed. Ndigbo will gladly vote for him come March 11, 2023," Chief Osai said.
In her address, the Woman Leader of Ohaneze Ndigbo in Lagos State, Chief (Mrs.) Jane Okoro assured Governor Sanwo-Olu that the entire women structure in the 57 local governments and Local Council Development Areas (LCDAs) of the state will be mobilised to support his re-election.
Okoro appealed to Women not to allow their children to be used as political thugs in the forthcoming elections.
Also speaking, the President of Yoruba Council Worldwide, Aare Oba  Oladotun Hassan appealed to all Igbo people in the State, to reach out to their brothers and sisters to disregard all the unfounded allegations against the Governor, saying it is a move to arouse people's emotional sensibility and political ideology.
"I am appealing to all our wonderful Igbo people in Lagos State, to please ensure and reach out to their beloved brothers and lovely sisters and let them know and confirm to them that all those spurious allegations were nothing but satanic intrigues and orchestrated lies from a pit of hell and that it is just a premeditated antics in futility at casting aspersions against our dear Governor, Mr. Babajide Sanwo-Olu and give a dog a bad name in order to hang it," he said.