Blame Yourself for Your Failure – Dare Adeleke tells Jandor
2 min read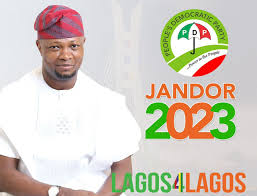 Oyo PDP chieftain, Dare Adeleke has reacted to a statement signed by Gbenga Ogunleye, the Head Media and Ommmunications, Jandor for Governor Organisation.
Adeleke described the statement targeted at PDP Chieftain, Chief Bode George, as hogwash and the wailing of an obstinate nonentity.
In a phone conversation with our correspondent, Adeleke said, Jandor himself dug his own grave and exposed himself as a political neopythe controlled more by his loins than his brain.
"If he is looking for who to blame after his disgraceful outing at the governorship election, he should look to no other but himself. Perhaps his pedigree did him in such that the PDP recorded an abysmal outing, so shameful it is almost a sin to talk about it."
"His outing was so appalling that his partners in crime, Ade Dosunmu, Wahab Owokoniran and the so called Lagos PDP Chairman, Adedeji Doherty, reportedly abandoned ship and crossed over to the APC. Does he also blame Bode George for that?
According to Adeleke:
" We must remind the world again that Jandor, a photographer, joined the party in January, with claims that he has what it takes to win the election. He boasted that he would move half of the APC with him if given the ticket.
"Such was the emptiness of his words that he not only chartered empty molue buses to Tafawa Balewa square, during his decampment but neglected to produce his phantom APC followers.
"Of course after such a monstrous disaster, he cannot force Bode George's support, because he had exposed yourself as a non-starter."
Continuing, Adeleke said; "We expected him to account for the money he stole during Atiku's campaign. It would seem, with the benefit of hindsight that Jandor's intention was not to contest but to syphon campaign funds and he has succeeded in doing so." Adeleke alleged.
Adeleke advised Jandor "to go back to political Kindergarten and learn many courses, including, mobilisation, humility, loyalty, strategy and character before going to the market square to catch imaginary witches."
Adeleke admonished Jandor further: "We must tell this our failed candidate that youthful exhuberance does not win elections. We must remind him that when Chief Bode George was building the PDP, he was
still soiling diapers. Jandor must desist from aggravating those who can help him grow, if he wants to pick up the pieces of his shattered political career, henceforth." He said.