Stop the attack on Gov. Makinde and others .. .Ibadan Solidarity Movement warn Diran Odeyemi
4 min read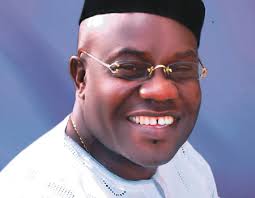 The Ibadan Solidarity Movement (ISM) has reacted strongly to a press release issued by Hon. Micheal Adepoju on behalf of the Oyo PDP like-minds, describing the group as faceless, baseless and non-existent.
In a statement issued in Ibadan Monday evening, and signed by Adedayo Gbadamosi, the Ibadan Solidary Movement stated that the so-called press statement must have been concocted in a "Beer Parlour" in the hometown of Diran Odeyemi, PDP Deputy National Publicity Secretary.
The ISM noted that there has been what it described as a concerted effort and diabolical conspiracy to discredit Governor Seyi Makinde of Oyo State by agents of calumny who want to seize the South West Zone by all means.
The Statement Reads:
"We have watched with great consternation the incessant and baseless attack on our governor, Egnr Seyi Makinde and follow up attacks on anybody who dares to stand by him against diabolical and evil men who want to control the South West Zone.
These men have broken all rules of decency and have launched a brazen attack on our state.
Most surprisingly is the fact that these godless men without an iota of conscience or decency belong to the same party as our governor. What is at stake for them, is not the growth of the state nor the prosperity of the people but an unusual lust power. They see Governor Makinde as stumbling block to their control of the South West and a threat to their daily bread.
We were silent until now because we knew they were on a wild goose chase. That which they seek, will never be theirs. The South West PDP will not be led to slaughter like a humble sheep. We will not bow to their Mammon.
However, we cannot fold our hands and watch them spread falsehood or malign those who uncover their devious plans against our zone.
We urge everyone concerned to ignore the so-called called group with the adopted fake name, PDP Like-Minds and regard them as unserious, fictitious, debased and illegal. We can only conclude from the content of their statement that non other than Diran Odeyemi recruited an unworthy fellow as himself and wrote a barrage of nonsense meaning nothing from a beer Parlour in Obokun.
Our Leader, a galvanizer and a man of high integrity, Hon Dare Adeleke remains one of the men still standing by the truth and exposing the evil deeds of the traitors among us.
Hon. Dare Adeleke is a warrior and consistently loyal to both party, family and friends. We all know that even if he is the last man standing, Honourable Adeleke will fight on for what he believes, unlike the likes of Diran Odeyemi whose life has been trailed by disloyalty and treachery.
Odeyemi seems to have forgotten so soon how he was beaten black and blue at the PDP Secretariat at Oshogbo for collecting money from Governor Oyetola and selling out his own party. The mole it seems, has refused to change.
Unlike Odeyemi who goes begging like a leper only to turn around and betray his benefactors again and again, Adeleke is a responsible, selfless, hardworking man of great achievements.
We must point out to the writer of that worthless statement, the faceless and fake Michael Adepoju that his absurdity is in saying that Adeleke has no political base, whereas, as matter of fact, it is his paymaster Diran Odeyemi, who does not have a base, not even in Obokun where he comes from.
Another laughable absurdity was describing Hon. Dare Adeleke a bootlicker. The writer must have been thoroughly inebriated by some cheap liquor.
Anyone who could describe Dare Adeleke as a bootlicker must be insane.
Unlike their Odeyemi who is a professional opportunist, a pitiable beggar and an unrepentant traitor, Dare Adeleke is the bona-fide leader of Ibadan South East and his loyalty to the governor has never been in doubt.
If they cared to do due diligence rather than soak themselves in the same cauldron where Odeyemi cooks his hateful and dubious lies, they would have known this.
Today, the Ibadan Solidarity Youth Movement dares Odeyemi to deny that he did not get a SUBEB contract through a contractor he personally fronted, from the Oyo State Government. Has he also forgotten that he complained about how he wasn't paid well by the contractor?
Right now, the Ibadan Solidarity Movement, can reveal that the contract is under investigation for shoddy execution of the job.
Can Diran Odeyemi swear with his children that he did not take contract from SUBEB?
Odeyemi cannot point to ten followers whose bills he can pick, yet he comes on air to utter rubbish against a sitting governor simply because our governor has rightfully shut down his regular bazaar and and free meal conduit.
The whole world must know that Diran Odeyemi is a two – faced masquerade who will be fully exposed soon.
We, the Ibadan Solidarity Youth Movement, hereby send a strong warning to Diran Odeyemi and his band of rag tags to stay away from our governor and Honourable Dare Adeleke henceforth.
We also warn Diran Odeyemi to desist from his fake press releases and cooked-up lies.
A word, they say, is enough for the wise.