Late Lateef Jakande: The Unsung National Hero, Why Buhari Must immortalize Him – League of Soft-Sell Publishers
3 min read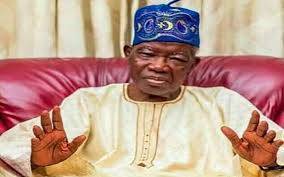 The death of the first civilian governor of Lagos State, Alhaji Lateef Kayode Jakande on Thursday 11th
February, 2021 at 91 is a monumental loss to the country, Lagos and above all, the noble profession of
journalism.
The frontline media practitioner of note, Alhaji Jakande deserves more than a platinum honour going
by his antecedents and impressive track records in governance.
There's no gainsaying the fact that the housing and educational friendly policies of the outstanding administrator can never be rivaled in Lagos and Nigeria as a whole.
The deceased, first and foremost was an elder statesman and one of the nation's historic leaders, whose imprints and footsteps on the sand of time will remain for time immemorial.
Aside being the first ever civilian governor of Lagos, a feat no other person can beat, Alhaji Lateef Jakande's imposing management scorecards, as far as administrative performance is concerned in
Lagos, will be hard to overturn by any government.
For the records, the high-flying member of the fourth estate of the realm was the architect and
Pioneer of the modern day Lagos and his development templates on housing and education policies are yet to be equaled.
Amongst his iconic achievements were the establishment of the Lagos State University (LASU), Lagos
State University Teaching Hospital (LASUTH), construction of the State Secretariat in Alausa, Ikeja and
now old Governor's Office, known as Round House.
Other vital accomplishments of the late patriot and indefatigable politician are the building of 30,000 ousing estate units, Gbagada General hospital, Ikorodu General Hospital, Lekki/Epe Express Way,
Lagos State Television (LTV8), Water Works in Shasha, Agege, Shomolu, Apapa and Badagry, and parking Meters in Central Lagos.
He also constructed 29 Secondary Schools, the Agric Hub, Oko Oba, the Lagos Metro line project,
Amuwo Odofin, Ijaiye, Dolphin, Iponri and Ipaja low cost housing estates.
Alhaji Jakande, who was said to have driven his personal car and lived in personal house even as
governor was also the first ever governor to present a budget of N1 billionin Nigeria.
Described as the most conservative man of his time, Alhaji Jakande successfully moved civil servants
to the new Alausa Secretariat after completion.
History would be on the side of Alhaji Jakande as his legacy students, who enjoyed his free education
in those days, are now doctors, engineers, lawyers, successful men and women in different fields of
human endeavours.
The late politician, journalist and perhaps last of the titans was a colossus and a friend of the poor,
who gave his position as governor all the passion it deserved.
His four years and three months trajectory as governor are yet to be rivaled with many years of civil
rule, so far in many states of the federation.
He is a rare gem and merits to be immortalised with a national monument.
Repose, like they say is necessary to great efforts, and he who is never idle, must not labour in vain!
The League of Soft-Sell Publishers is appealing to President Muhammadu Buhari to consider naming a national monument to immortalize this outstanding achiever, who came saw and conquered for humanity.