Chief executive officer of Indoor Design and Concept Limited (IDCLng), Kingsley James, has been elected Captain of socio-economic group January 9 Collective (J9C).
Mr James emerged unopposed on Sunday, June 4 at an election conducted by the January 9 Collective Electoral Committee headed by Michael Dada with Adeniyi Adelaja serving as secretary.
He succeeds Publisher of News of the People, Titiloye Amzat, as leader of the group.
Others elected into the new executive council of J9C are Abiodun Oshinibosi, Vice-Captain; Azuh Arinze, General Secretary; Olanrewaju Akintilo, Assistant General Secretary; Adebayo Abolarin, Financial Secretary; Olumide Iyanda, Publicity Secretary; Adeyemi Aseperi, Membership and Mobilization Secretary, and Debo Alexander, Welfare and Social Secretary.
Speaking after his inauguration as captain, James thanked members of the Collective for giving him 100 percent votes which he said confirmed the acceptance of his campaign of rebirth and reenergisation of the association.
Recalling how J9C was formed on January 9, 2012 in the aftermath of the Occupy Nigeria protest, he said "Our focus was to birth a Collective (mostly of friends at the time) that will impact government policies while promoting ideas that will benefit our collective interest."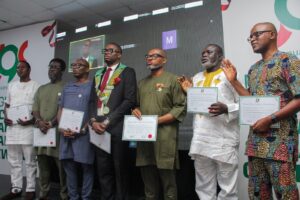 He noted that 11 years after, J9C has evolved, grown and become more dynamic.
"The election and result that birth this new EXCO soars my conviction that the Collective agrees to unitedly face the path of rebirth and reenergisation as evidenced in the fact that most offices were by legal consensus with the requisite number of votes required to affirm the office secured. This Exco is the first time we will have no contestant whatsoever at all levels," he added.
James saluted his predecessors Percy Ademokun, Oluwaseunfunmi Soyinka, Wole Olagundoye, Akin Adeoya and Amzat whom he said managed the Collective to the best of their abilities.
He also thanked founder of Nairametrics Ugochukwu Obi-Chukwu for delivering the inauguration lecture, calling on the latter and others to become members of J9C.