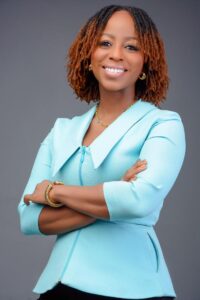 Jumoke Akande today joins Avanti Communications ("Avanti") as Chief Marketing Officer.
Based in Avanti's new offices in Lagos, Nigeria, Akande will be working closely with Avanti's teams across the globe. She will be responsible for developing an integrated channel strategy across key sectors including mobility, enterprise, defence and education.
Akande's new role will be pivotal in accelerating Avanti's roll out across Africa.
Libby Barr, COO – Customer at Avanti Communications, said: "I am delighted to welcome Jumoke to our growing team of senior executives in Nigeria. Jumoke is a proven leader with over 20 years' experience in marketing and joins us at an exciting time.
"What stood out about Jumoke was her extensive experience managing teams across markets and launching large-scale campaigns in Africa. We can't wait to see her strategic insight in action in this newly created role. Her experience will be vital in helping Avanti reach its growth ambitions over the next few years."
Prior to joining Avanti, Akande was an Associate Director at GICL/IHS Towers where she oversaw their fibre and rural telephony marketing strategy. She has also held senior roles atMainOne, Dell Technologies and consulted for leading MNOs in Africa including MTN Nigeria.
ENDS
About Jumoke Akande
Jumoke Akande has more than 20 years' experience in developing and deploying go-to-market strategies across the telecoms sector. Jumoke joined Avanti Communications from GICL/IHS Towers where she oversaw their Fibre and Rural telephony marketing strategy. Prior to this, she ran marketing and business solutions at MainOne, Dell Technologies, and MTN Nigeria.
About Avanti Communications
Avanti Communications is the leading Ka-band high throughput satellite capacity partner to the communications industry in EMEA – extending and guaranteeing coverage for defence missions, enterprise solutions and critical public services.
Through the HYLAS satellite fleet and partners in 118 countries, Avanti provides dedicated fixed and flexible-beam satellite connectivity, with extensive coverage across Europe, the Middle East and Africa. Avanti has invested $1.2bn in a network that incorporates orbital slots in Ka-band spectrum, satellites, ground stations, data centers and a fibre ring.
For further information please contact: avanti@threesixty.uk