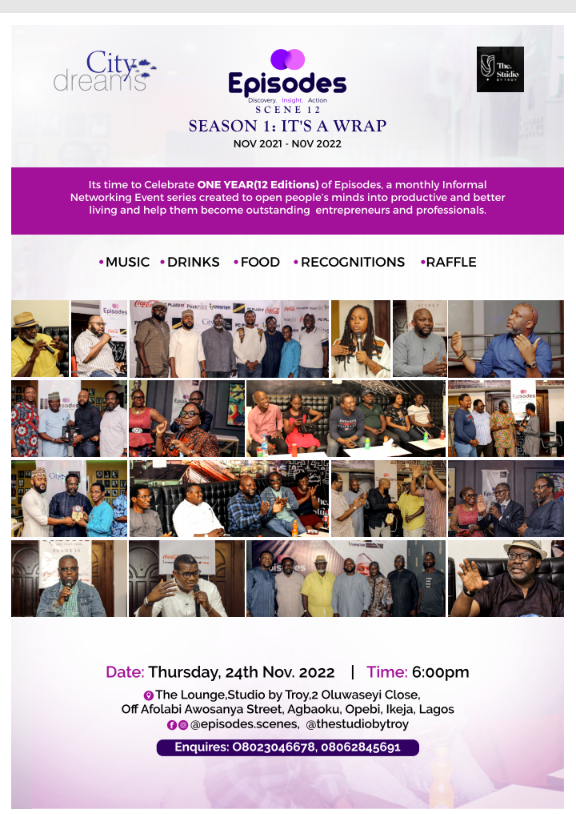 The 12th Edition of Episodes, an evening of business networking session that comes up once monthly is scheduled to take place on Thursday,24th, November 2022 at The Studio by Troy, in Opebi, Ikeja, Lagos.
It has been ELEVEN months (11 Editions-EPISODES -SCENE1-EPISODES-SCENE 11) of interactive, exciting, and rewarding experience by the organisers, guests, and partners.
In the words of the Convener, Mr. Jide Fowode, the event tagged "EPISODES -SCENE 12(SEASON 1: IT'S A WRAP)" is planned to celebrate the learnings, achievement, and the mutually rewarding relationship by all stakeholders.
It will also serve as a platform to wrap up SEASON 1 of the Initiative and create an avenue for having insights into a more successful and impactful Season 2.
Th event promises an evening of good music, recognitions, raffle, food and drinks.
Our corporate partners are also involved towards making the event an exciting and memorable experience.
Episodes is an initiative created to open people's minds into productive and better living and help them become better entrepreneurs and professionals.
The previous editions, EPISODE- SCENE1 to EPISODES-SCENE 11 were held with the intent of a reputable and viable platform for entrepreneurs, professionals, business executives and corporate players to network, share and acquire knowledge about issues, concerns, and challenges of common interest in a very relaxed atmosphere of conviviality and proffer solutions and directions towards having a community of better people.
Looking forward to a fun filled evening.
Jide Fowode
Convener
08023046678,08036933903