Emeka Ibe Becomes 56th President of Rotary Club of Ikeja
3 min read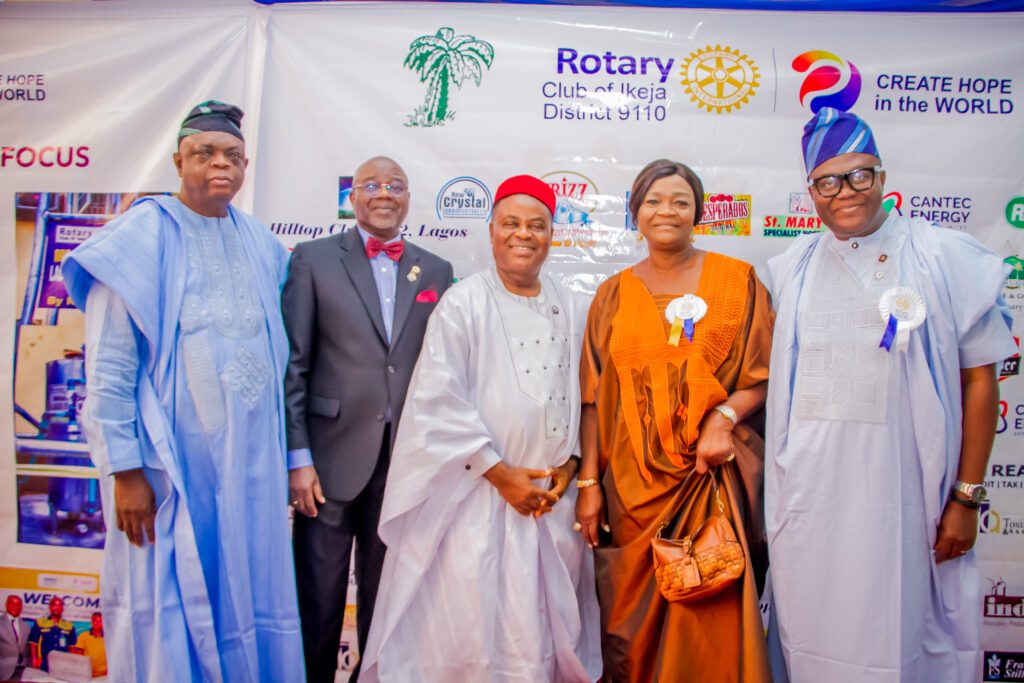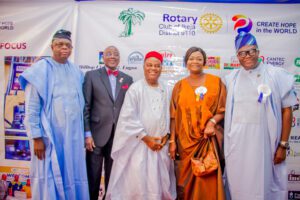 Rotarian Emeka Ibe has been installed as the 56th President of Rotary Club of Ikeja. The colourful investiture which also witnessed the induction of the new board of Directors for the 2023/2024 Rotary year held at the Oranmiyan Hall, Lagos Airport Hotel, Obafemi Awolowo Way, Ikeja.
The event also afforded the club the opportunity of presenting honorary membership as well as bestowing awards of recognition for commitment to humanitarian services to eminent personalities, including the Chairman of Ikeja Local Government, Hon. (Engr.) Mojeed Alabi Balogun, Chief Executive Officer, Tenece Holding Limited, Chief Kingsley Eze, former Managing Director of First Bank Merchant Bank, Chief (Dr.) Chilo Offiah, former General Manager of Nigerian National Petroleum Corporation, Barrister (Dr.) David Ogbodo, Dr. Jeff Nnamani and Wells Advisor, Exxon Mobil Limited, Prince Okenna Afamefuna.
Other awardees are Chief (Engr.) George Taiyese, Chief Executive Officer, Rapid Check Diagnostics and Wellness Limited, Dr. Chijioke Onyia, Chief Executive Officer, Active Edge Technology Limited, Chief George Agu, Chief Executive Officer, Norlic Technology Limited, Chief (Sir)Laz Okolie and Benji Ofungwu.
Speaking on how he felt about the day which also had distinguished Rotarians in attendance including the District Governor of Rotary International District 9110, Rotarian Ifeyinwa Ejezie, Doyen of District 9110, Past District Governor, Prince Julius Adelusi-Adeluyi and famed industrialist, Chief Olusegun Osunkeye, the new President said he would concentrate on the seven areas of focus of Rotary International, including mental health which was recently introduced by the President of Rotary International, Mr. Gordon McInally.
He said, ''The seven areas of focus plus one will be weaved around the Rotary themes for each month. Rotary gives succor to the needy and within this year we would use our talent, time and treasure to give a hand to the needy in the society.
 ''More importantly, we would key into the primary areas of focus of our District Governor, Rotarian Ejezie, which are fortifying the Rotary Foundation and telling the Rotary story in a beautiful manner as well as mental health which was recently introduced by the Rotary International President, Mr. Gordon Mclnally.''
Rotarian Ibe, a quintessential chartered accountant, financial consultant and tax expert was born to the family of Papa Anthony Jideije Ibe (of blessed memory) and Mrs. Cordelia Udegbu Ibe in 1964.  He started his academic journey immediately after the civil war in 1970. He had both his primary and secondary school education in Enugu.
He obtained his West African School Certificate results from Christ High School, Abor and passed many of the subjects with distinction obtaining a 'Grade One' in 1980. He studied accountancy at Federal Polytechnic Idah where obtained a HND certificate with flying colors. He served his fatherland at Cross River State in 1987. He later bagged an MBA in Business Administration from University of Calabar and later an MSc in Accountancy from Enugu State University of Technology Business School. He has been offered an admission by the same University to commence his doctorate (PhD) program.
 Rotarian Ibe has had an exciting career in both the public and private sector of the economy. He is the Managing Consultant of Valid Points Consulting, a firm that plays crucial roles for its clients in accounting system automation and e-gov. He is also a principal consultant to African Capital Market Consultants a firm that consults for players in the Nigerian Capital Market and Cross Boarder Listing.
 He is fellow of the Institute of Chartered Accountants of Nigeria (ICAN). Rotarian Ibe is also a member of Chartered Institute of Taxation of Nigeria (CITN) and Enugu State Professionals Chapel. He is a member of Knights of Saint John International (KSJI), Ikeja Golf Club and currently the Chairman of Hilltop Club 1972, Lagos, an elite Club that comprise quintessential sons of Enugu State who are captains of industry, technocrats and business tycoons in Lagos State.
He holds the title of 'Chief Ezenwata' and he is a member of the Igwe Cabinet in his town, Aguobu Owa in Enugu State. He is happily married to Mrs. Ifeoma Joyce Emeka-Ibe and they are blessed with lovely children