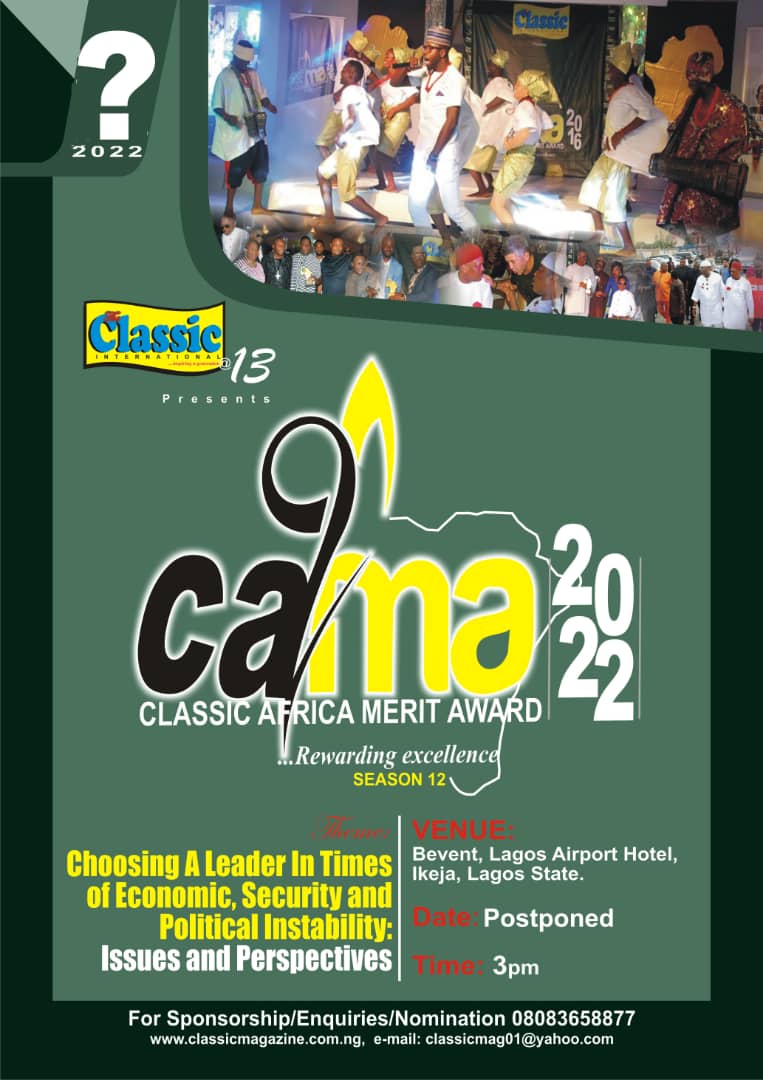 Classic Africa Merit Award (CAMA) 2022 billed to take place on Sunday 20th November has been postponed due to the demise of the Chairman of Classic International Magazine, Dr. Iyke Kanu.
Announcing the postponement on Wednesday, 16th November, the Publisher of Classic International Magazine and Convener of CAMA, Mr. Dave Agwazim said, "With heavy heart and total submission to the will of the Almighty God, I regret to announce the postponement of 2022 Classic Africa Merit Award due to the sudden demise of my Chairman, Dr. Iyke Kanu".
Until his death, Dr. Kanu is an unrivaled philanthropist, serial investor and astute businessman whose business concerns spans across hospitality, real estate, oil and gas, etc.
Classic Africa Merit Award is established by Digital Solutions, publishers of The Classic International Magazine as an annual event in the calendar of the Africa community to honour real drivers of the economy in various fields ranging from governance, academics, business, entertainment, etc.
Every year, CAMA honours individuals, companies and their brands in recognition of their significant contributions to the sustenance and growth of Africa's business environment. As usual, CAMA 2022 is tagged "Choosing a Leader in times of Economic, Security and Political Instability: Issues and Perspectives".
Dave further said that the new date for CAMA 2022 will be communicated soon, while regretting the inconveniences this would cost their sponsors, proposed award recipients and the general public.
He said, "I want to enjoin our sponsors, supporters, proposed recipients and the general public to bear with us and continue to pray for us in this trying time, especially for Dr. Kanu's immediate family. We will make public the new date for CAMA 2022 soon". He concluded.