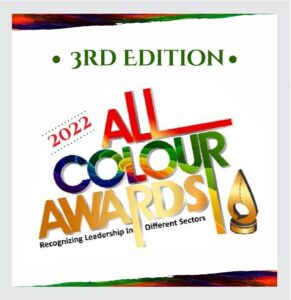 All Colour Awards' 3rd Edition To Recognize Leadership In Different Sectors In Nigeria Is Bigger And Better
Afrika Konnekt News Network Partners Kanbitoons Company To Presents The Exclusive 3rd Edition Of All Colour Awards (Aca 2021)
Exclusive: 3rd Edition Of All Colour Awards (Aca) Ready To Take The Centre Stage To Recognize Leadership In Different Sectors In Nigeria
All Is Set For The 3rd Edition Of 'All Colour Awards' In December 2022 Like Never Before
The annual All Colour Awards (ACA) to honour businesses, creativity and excellence in various industries from the stable of Kanbitoons Company in-conjunction with Afrika Konnekt News Network (AKNN) is set for the anticipated 3rd Edition in December 2022.
In preparation for the event, the Advisory Board and the Selection Panels of the awards are doing what they know how to do best to have quality and credible recipients for the 3rd edition like never before. All Colour Awards 2022 nominees/recipients would be selected via vigorous credibility tasking process by a clinically selected body of judges.
The laudable event to beat and copy- All Colour Awards with limitless imagination and bold execution to foster unity and positioned to soar winners beyond known boundaries is definitely an event in December to remember right from the colourful red carpet to the lecture and the presentation of different awards to the recipients in different sectors.
The exclusive event to usher new hope for Nigerians come 2023 is set to take the centre stage as a spectacular gala for all tradition, all costumes and all glamour in grand style.
It is in the spirit of making merry with the A-list awardees in various industries in Nigeria and Diaspora for brand leverage, trend attraction, business and human networking and above all to promote unity in our great country, Nigeria.
Mr. Kanbi Owolabi, the principal consultant of All Colour Awards disclosed that his company,
and the board of awards are very thankful to the individuals and organizations that have shown interest to be part of this laudable project as he implores other corporate organizations to come on board as veritable stakeholders and sponsors of a bigger and better awards which is now the talk of the town.
This year unique 3-in-1 colourful event to mark the 3rd edition is set to make a statement nationally and bring about streams of opportunities to converge on by all awardees, participating guests and sponsors.
All Colour Awards (ACA 2022) is billed to take place on Sunday December 11, 2022 at Abelinis Event Hub, located at No. 1, Erinola Salako Street, Behind Excellence Hotel, Ogba-Ikeja, Lagos, Nigeria.
The industry watchers disclosed that it is a veritable platform for awardees to leverage and increase their perception profile. And, they further noted that 'It's not just an award but a memorable event that will help the recipients gain strong recognition and consumer empathy'.
For your information, the awardees/recipients at the 2nd edition of All Colour Awards last year are: VDT Communications Limited -Best Broadband Service Provider of the Year; Chain Reactions Nigeria -Best PR & Integrated Communications Agency of the Year; Aremolekun Care Foundation – Most Outstanding Humanitarian Foundation of the Year; Mr. Gboyega Akosile – Most Outstanding Chief Press Secretary on Media Engagement of the Year; Samovic Homes & Properties Limited – Most Enterprising Real Estate Company of the Year; Hadassah Makeup Professional – Most Innovative Makeup Brand of the Year; Orateur Integrated Limited – Most Outstanding Trading Company of the Year; Dr. Lucky Omokhodion -Most Outstanding Business Personality of the Year; Mr. Bestman Nze-Jumbo -Best Alternative Security Consultant & Personality of the Year; Hannax Consulting Limited – Best Architectural Design & Construction Company of the Year; Deborah Ewedafe Macaulay – Best Movie Producer in Diaspora of the Year; Treasure Minds Media – Best Studio & Production Equipment Company of the Year; King Segun Blessing (KSB) – Most Outstanding Juju Musician of the Year; Jire Ogunleye – Most Promising Actor in Nollywood of the Year; Dele Gold (JP) – Most Outstanding Evergreen Gospel Musician of the Year.
The organizers further disclosed that specifics will be communicated as events unfold.