…Innovates With Founder's 50th Birthday Celebration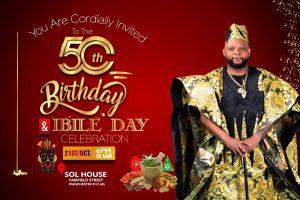 Ahead of the forthcoming 5th annual Ibile Day celebration in Manchester, United Kingdom, all arrangements have been on top notch towards making the day a successful edition.
Ibile Day has been an annual event renowned for its unique gathering, projection and celebration of the rich socio-cultural heritage of Nigeria by Nigerians in diaspora; especially in Manchester and the United Kingdom at large.
According to the Convener, Oluwasegun Akindayo, "Ibile Day is an evolution of my personal and professional passion and commitment to Nigeria's rich cultural values. It is aimed at fostering unity amongst the multi ethnic groups residing in the United Kingdom".
Continuing. Akindayo explained that "given my antecedents and professional background, it actually started with a Yoruba perspective but the resounding successes accompanying the last four editions has motivated us to continually increase the horizon and frontiers of the Ibile Brand".
Akindayo further disclosed that besides the usual creative and herbal work on display, the unity in diversity theme would also play active role on the day with a multi-cultural display of ethnic groups residents not only in Manchester but in United Kingdom as a whole.
"Interestingly and uniquely", according to Akindayo, "this coming edition comes in two packages; the Ibile Day gathering and my 50th birthday celebrations. The planning committee felt it right to use this year's edition of Ibile Day to appreciate God and all stakeholders of the Ibile Brand over it's continued success streak as well as what the virtues of the past 50 years have been to me personally".
Billed for Saturday, October 21, 2023, the event is poised to attract major socio-cultural organisations across Manchester and beyond. This and other initiatives, according to Akindayo, is chiefly aimed at expanding the horizon to bridge the gap amongst Nigerians through a mutual integration and interaction of their socio-cultural brands.
Scheduled to hold at the prestigious SOL House, Manchester, United Kingdom, this particular Ibile Day edition and the convener's 50th birthday celebration has generated a lot of enthusiasm amongst Nigerians in United Kingdom and in diaspora.
"As an annual event, Ibile Day has created a niche for itself as a socio-cultural brand offering a platform of cultural projection, a window of social integration and a channel professional networking; regardless of colour, race, religion or ethnicity while my 50th birthday celebration has also generated quite an impressive stir, enthusiasm and expectation much to the surprise of the brand's stakeholders", he said.
In reality of the various excitements already generated on the social media and amongst the various Nigerian ethnic communities in Manchester, top entertainment stars in Nollywood have confirmed their attendance. Ace comedian, Baba Tee will be anchoring while Ibile Day Chief promoter, Alhaji Sulaiman Adio Atawewe is set to thrill guests to his reputable brand of Fuji music.
"Given our experience and level of preparation, as well as the various support we are getting from all and major stakeholders, I am confident that this year's Ibile Day edition and my 50th birthday celebration will be nothing short of glitz, glamour and most especially, success", Akindayo hinted.