How Adekaz Boss, Kazeem Adeoti Abandoned His Family In USA To Marry Mercy Aigbe As Her 3rd Husband…… + The Untold story of their over 10 years Secret Romance
4 min read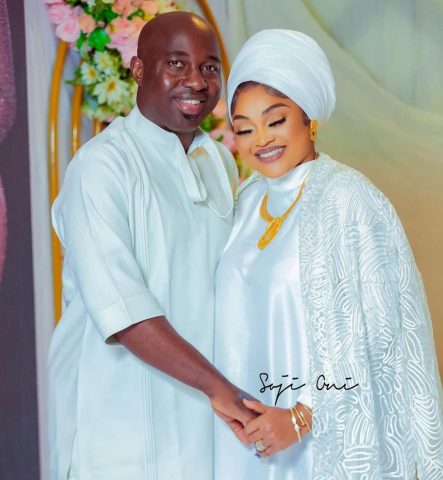 Kazeem Adesoji Adeoti, popularly known as Adekaz, needs no introduction in the Yoruba movie industry. His work has endeared him to the hearts of many Yoruba movie fans. Adeoti is the founder and chairman of Adekaz Production Limited.
Mercy Aigbe on the other side is a popular Yoruba Nollywood actress who has risen to the top using what she knows how to use best. She is a mother of two and was before now married to a Hotelier, Lanre Gentry, and their marriage hit the wall sometime in 2017 after several counter accusations of infidelity and battering.
Many people in the industry have been spreading the rumors that Mercy and Adekaz were dating long even before her marriage with Lanre Gentry crashed but nobody has been able to confirm the romance until she uploaded the photos of her new husband (Adekaz) on Sunday, January 23, 2022 evening and got a barrage of Likes, knocks and congratulations.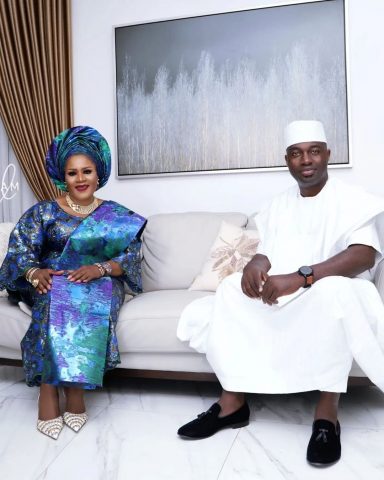 Though she didn't mention that she has remarried, the birthday message she sent to her 'best friend' Kazeem Adeoti, a movie marketer/promoter who founded Ibaka TV, says it all.
Society Reporters gathered reliably that her Union with Lanre Gentry crashed irretrievably, and the estranged couple would always throw shades at each other on social media especially on Father's and Mother's Days.
By September 2021, Gentry got married to another woman amidst pomp. He even granted interviews stating the many courts his former wife dragged him to in order to set a divorce.
Gentry is Mercy Aigbe's second husband.
Meanwhile, the latest wedding in Nollywood by Mercy Aigbe and Adeoti has been applauded by many artists who took to the actress's page on Instagram to congratulate her.
Unknown to many of her followers and fans, Mercy had been in the relationship with Adeoti for a while and always tagged herself as Agbeke Aya D'owner, (Adekaz is D' owner).
But a few of the actress's close friends in the industry were aware already.
On the 31st of December, 2021 we learned that Adekaz and Mercy had a private Nikkai in Lagos, where she was christened Aminah (which she shortened to Minnah). Only a few people were present at the ceremony. There was also a traditional Engagement ceremony held at the same venue. Officially Mrs. Adeoti, an excited Mercy announced the new name to her followers on social media later that day (which was also her birthday eve) with a video of her outfit of the day flaunting her new wedding band. Many of her friends flooded her timelines to congratulate her.
On January 1, 2022, at her house in Ogudu, Lagos where she hosted friends and family to a soiree, Adeoti aka Adekaz was fully on the ground and he played the role of a husband diligently. He was up and about, ensuring that guests had a good time. Also, on January 3, at the New Year dance party headlined by King Wasiu Ayinde Marshall in Lekki, the newlyweds were an item all through the event.
Since she left her ex-hubby, this will be the first time Mercy would be flaunting a man publicly. This doesn't mean that she wasn't romantically linked with some big names either.
But if you think her currently-married ex, Lanre Gentry would be calm about this new union in Nollywood, then you are wrong. A few hours after Mercy's announcement of her 'D' owner's birthday', Gentry had put up a post on Instagram featuring a throwback photo of himself, Mercy, Adekaz, and wife. This insinuated that Mercy must have been sleeping with Adekaz even when he (Gentry) thought Adekaz was a family friend!
Information reaching us further revealed that Adeoti's main wife who has four kids for him is not taking this development likely at all, as we gathered she was one of the pillars that made Adekaz what he claimed to be today.
A source hinted to us that the families of Adekaz are still begging the innocent woman to accept Mercy as their new wife into the family but the woman is quiet about it.
Just six months ago, we gathered that Adekaz still celebrated his wife's birthday with her in a low but classy way with a romantic photo session claiming to love her over everything in this world but unknown to the woman that he has his plans well structured out to marry Mercy officially this last December 2021.