Chinedu Eze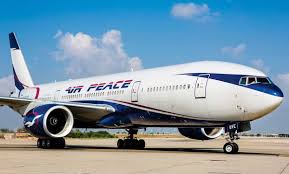 Saudi Arabia has cancelled the visa of all the 264 passengers airlifted by Nigeria's major carrier, Air Peace, on arrival in Jeddah from Kano and insisted that the airline should return them back to Nigeria.
It later allowed 87 passengers to remain and insisted 177 should follow the Air Peace flight back to Nigeria.
The flight took off from the Murtala Muhammed International Airport, Lagos via the Aminu Kano International Airport, Kano on Sunday night and arrived Saudi Arabia's major city, Jeddah Monday morning without issues but on landing, the Saudi Arabia authorities announced that all the passengers' visas were cancelled.
Informed source told THISDAY that all the passengers and the airline personnel were shocked at the cancellation of the visas because during check in of the passengers, they went through Advanced Passengers Prescreening System (APPS), which were also monitored by the Saudi Arabia authorities before the flight left Nigeria.
The source wondered whether what happened was a strategy to discourage the airline from operating to the destination because since it started the operation it has been recording high load factor and even the flight expected to leave on Tuesday to Jeddah was already fully booked.
THISDAY learnt that the Nigerian embassy waded into the matter, prompting  Saudi authorities to reduce the number of passengers that would be returned to 177 from 264.
THISDAY also learnt that Saudi Air had been operating directly from Nigeria to Saudi Arabia and since Air Peace started flight service to the Middle East nation at relatively lower fares, it had been receiving high patronage and as Nigerian carrier, it helps to conserve foreign exchange for the country.
A source from the Nigerian embassy in Jeddah disclosed that even the Saudi Immigrations  personnel said that they didn't know who cancelled the visas but that they were cancelled when the airline's flight was already airborne to Jeddah.
The source said, "The airline was exonerated in all this as the Advanced Passenger Prescreening System which is live between both countries would have screened out any invalid visa and its passenger. The system accepted all affected passengers and passed them on."
Those deported were 177 passengers and Air Peace has already left with them back to Nigeria.
"They are on their way to Nigeria now," the source said.
When contacted, spokesman of Air Peace, Stanley Olisa, confirmed the incident and said that the airline would issue statement after getting full details of what happened.
Industry observers attributed this to aero politics, noting that it is a way to force the Nigerian operator out of the route; unless government intervenes, adopting the principle of reciprocity.
In his reaction to the incident, industry expert and the CEO of Centurion Aviation Security and Safety Consult, Nigeria, Group Captain John Ojikutu, attributed the action of the Saudis to aero politics and diplomacy and urged that the Ministry of Foreign Affairs should step in immediately and intervene in the case.
He said what happened showed why it was important for the Nigerian government to stand strongly with any Nigerian carrier designated to operate international destinations